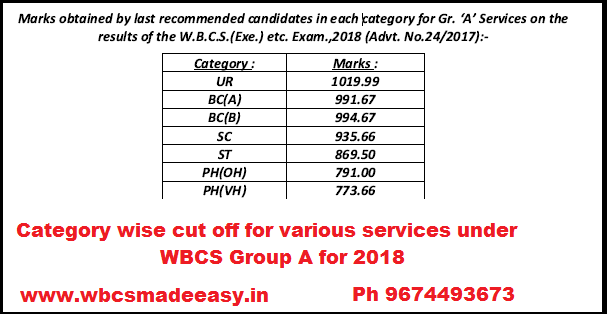 W.B.C.S. Exe. Etc. Exam 2018 Group A Final Result And Cut Off Marks Category-wise
WBCS (Exe.) Etc Examination 2018 Final result of Gr A & B published is published. This time 79 candidates are selected in various services under Gr A & 13 were selected in Gr B. We have marvelous result this time as usual including 3rd, 5th and 6th in Gr A and 1st in Gr B.
Final result WBCS Gr A & B 2018
List of new/current students who were our students at any stage of exam and passed finally. Old students not considered, there are many.
WBCS Gr A
ABHIRUP BHATTACHARJEE, WBCS (Exe.) Rank 3
RAMAN BUTTA, WBCS (Exe.) Rank 5
RAJNISH KUMAR YADAV, WBCS (Exe.) Rank 6
ROHAN SINHA, WBRS Rank 9,
DEBANJAN SEN, WBCopS Rank 1
WBCS Gr B
SABYASACHI GHOSH, Rank 1
PARAMITA MUKHERJEE, Rank 7
ANIRBAN MAZUMDAR, Rank 13
You can download the result from this link

The PSC has declared the cutoff marks too. It is like this:
Gr A
Category : Marks :
UR 1019.99
BC(A) 991.67
BC(B) 994.67
SC 935.66
ST 869.50
PH(OH) 791.00
PH(VH) 773.66
Please subscribe here to get all future updates on this post/page/category/website