WBCS 2019 Gr A B Interview Who Could Not Be Contacted For Online Interview
The following candidates could not be contacted for WBCS Interview.

Online Interviews for the under mentioned Recruitment Processes have commenced recently. It has
been observed that the following candidates could not be contacted at their email ID/ Mobile No.
registered with the Commission (as per details provided by them at the time of online registration)in
spite of several attempts.
Name of Examination West Bengal Civil Services (Exe.) etc. Examination, 2019
Advertisement No. 29/2018
Serial No. Date of Interview Roll No. Name of Candidate
1 04-05-2021 0514151 MD JASIM
2 04-05-2021 0613961 MD ABU SAHANI
3 05-05-2021 1104838 Subrata Kumar Hazra
4 05-05-2021 1202084 SubhajitTewari
5 11-05-2021 0106787 Surajit Sarkar


The above mentioned candidates are hereby requested to contact the Commission's helpline at
Mobile Number 7003792549 or email id pscwbit02@gmail.comnot later than 3(three) working days
following the publication of this notice. If no response is received within the aforesaid time frame, it
would be presumed that they are not interested to participate in the selection process, and marked
as absent, without any further reference to them.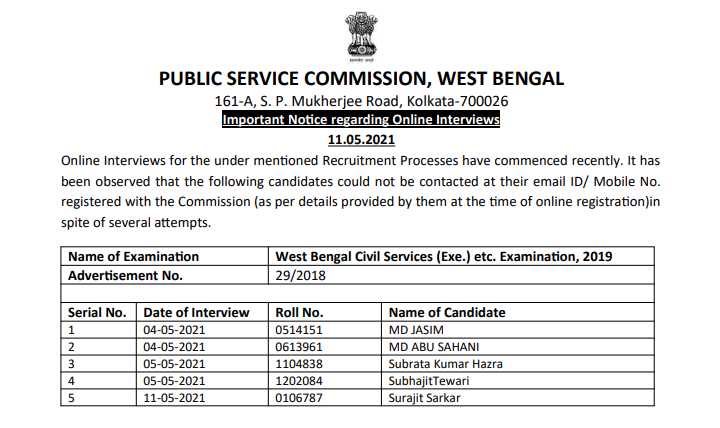 Original communication from PSC WB can be found here for download..