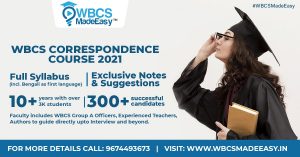 WBCS Correspondence Course 2022
Correspondence course is also known the name of  Distance Learning Programs, keeping in view heavy demand for West Bengal Civil Services Exam oriented study material, WBCSMadeEasy™ Institute have designed a Correspondence Course. The main motive behind our program is to make available complete WBCS study material for those aspirants, who cannot attend a coaching institute due to one reason or another. Such aspirants depend on books, newspapers and magazines suggested by others. Despite spending a lot of money and hard work on all these, they do not get positive results. No doubt, it is necessary for WBCS study material that it should be easily understandable and not be felt as burden for regular study. WBCSMadeEasy Institute is one of the most popular WBCS coaching institute among civil services aspirants. Examination and result oriented approach of our Institute is the reason for it.
WBCSMadeEasy institute has a talented, specialized and experienced team of faculty members who are all WBCS Gr A Officers / toppers writers for each subject along with professional management. Those aspirants unable to attend the regular classroom programs in Kolkata are devoid of our quality teaching and WBCS study Material. On high demand by these aspirants, WBCSMadeEasy Institute management designed an innovative exam oriented program. Our Distance Learning Program will help such aspirants to get all necessary WBCS study material on their fingertips sitting at home.
Correspondence course benefits those students who have missed WBCSMadeEasy Institute regular batch programs. The Institute offers correspondence course for the Preliminary Exam and the Main Exam for General Studies & a number of optional subjects —both in English & Bengali medium. Keeping an eye on problems faced by students in distance learning, the course has been compiled in a student-friendly manner in order to offer all the benefits of regular classroom paring down the geographical barrier. We continually update the study material so as to incorporate the latest developments & trends.
Main features of the course:-
It covers whole syllabus (Including Bengali as first Language).
Notes are printed and in English only (as in Main Exam questions are asked in English only and you must know the terms in English, else you lose 50/60 marks at least).
It comprises of our exclusive notes, few UPSC level materials, few Xeroxes of some important pages of books that is almost everything which is needed and provided to regular students here.
Last 8-12 months current affairs study materials will also be provided (weekly update).
Materials will be sent in 2/3 installments till next WBCS Main Exam. Interview support will also be given for that year too, if qualifies for it.
Time to time communication from WBCS toppers regarding strategy, routine, exam pattern etc.
Continuous feedback through e-mail.
Personal contact programme at Kolkata once in 3 months.
Course fee Rs 20000 (through NEFT/Bank Transfer A/c name: WBCS MADE EASY ) for 2022 (No refund / transfer is possible)/ Rs 20500 through payment gateway transfer. .
How to apply?
Fill up this form: https://goo.gl/forms/3F02yOsNMvOAFNOg2
Pay by clicking here: 
Advantages
The flexibility of time helps the students to prepare for the exam comfortably. The systematic instructional material, instructional design and self-instructional material help the independent learners in a significant way. The strategy, stages and steps in effective lesson writing are really helping the students to develop themselves. It is also very economical, which can be afforded by all sections of the people.
Being an `industrialized' form of education, it has reduced human contacts which occur only in the feedback stage of the process. However this is taken care of by means of periodic assignments for submission.
In a nut shell the merits of correspondence may be listed as below:
Student is more active and self directed in learning environment
Well planned instructional design and self-instructional material
Easy schedule
Students can engage courses at home
Economical and affordable for every one
Can pursue a job along with education
Suitable for office goers, housewives and others doing a job who could not attend our esteemed classes by WBCS Group A officers/ toppers at weekends in Kolkata.
Why Note making Is Necessary:
WBCS Exam is one of the most important and toughest exam in West Bengal for the prestigious services and posts. WBCS Correspondence Course may help fulfil this dream of yours. In this exam one needs to study almost everything under the Sun. So making notes are necessary.
Thumb rules for making notes
Make it for the core subjects where breadth of the syllabus is clearly known.

Keep it extremely simple and organized, with points.

Refer as few books as possible.

Abbreviations are more than welcome in making notes.

Make sure it has points you want to remember, it is a choice and the important ones alone deserve to be a part of it.

Don't go in for senior's notes, those are the ones which will keep you off track. Maybe you can use it as a reference, don't try to build over it since it is made for his/her convenience. A topper's notes doesn't ensure you a rank. Your own notes has a better chance of doing that

Don't spend too much time or effort on it, it is supposed to simplify your life not complicate further.

Make a copy of it, you shouldn't miss out on effort and end up with a repetition.

Make the notes at a time closer to your exams, you'd have had enough maturity on the subject by then and trivia will not be the biggest chunk of it, instead very solid points will make the headlines.
In the end I would say, make notes and KISS – Keep It Simple and Short!
The Course:
Now, if you do not want to waste time making notes , because you may be working or have less time for preparation, this course comes handy. In WBCS Correspondence Course we send study materials time to time as per our schedule. Those who cannot afford to come to our centres, which are basically in south Kolkata or who stay far from Kolkata can avail this facility.
Remember, the thumb rule of WBCS Exam is, "Do not study five different books one time each, study one book five times". Have you ever thought what are the resources available to those candidates who take exam from distant areas and districts ? what materials do the study? Do they all have access to good books, written by foreign authors? No , they study simple books and pass this exam with flying colours.
So, friends, just know what to study and what not. Get our materials, which is deliberately kept low in volume , and study them and pass the exam in 1st time itself.
Study materials are important part of exam preparation. We provide full study material , online or hardcopy, @ Rs 20000 for Prelims, Mains, Interview 2022.
For Optional subjects (selective), we provide study materials @ Rs 3500.
So do not waste time, call 9674493673 &  join  our WBCS Correspondence Course. You can mail us too at mailus@wbcsmadeeasy.in
Our own publications are available at our webstore (click here).
For Guidance of WBCS (Exe.) Etc. Preliminary , Main Exam and Interview, Study Mat, Mock Test, Guided by WBCS Gr A Officers , Online and Classroom, Call 9674493673, or mail us at – mailus@wbcsmadeeasy.in
Please subscribe here to get all future updates on this post/page/category/website