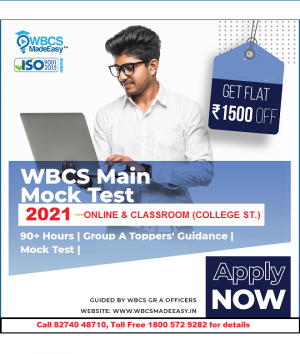 WBCS Mock Test Mains 2021
This WBCS Mains Mock Test series is prepared by WBCS Gr A Officers / Toppers. Both compulsory and optional subjects with Bengali Hindi Nepali Language is included in this online-offline test series. Apply now!
General:
The preliminary exam of WBCS 2021 is over. You guys must be very tensed about the result and your performance. You are also thinking of the cut off marks right now of WBCS Prelims 2021 or probable standard of the Main Exam 2021. To have an idea please see the result of WBCS Preliminary Exam 2019 here which is already published and also the cut off marks in various categories for WBCS Prelims 2019. Result of preliminary exam 2021 is awaited.
See, cut off marks depends on many factors like number of vacancies, the quality of candidates in a particular year etc. However 55%-65% + is good score for any stage , Prelims / Mains. And if you are planning to prepare for WBCS Main 2021 , which you must have to do anyway, as a part of good strategy, whatever may be outcome of the prelims exam, you can join our Mock Test series at classroom or online, for checking your last minute preparedness. You can join our Foundation course 2022 or start taking WBCS Mock Test for preliminary exam 2022 (later) if you do not qualified in prelims 2021. Though we take mock test every day in regular classes, we are starting exclusive WBCS Main 2021 Mock Test for you from tentatively 31st October 2021 (classroom and online). Join us now. Better late than never!
Our infrastructure may be seen here: Click here for infrastructure.
Starts 31st October 2021.
JOIN US NOW!!!
Why mock test is necessary? Click here.
Why you delay your decision every time? Read it.
The Course:
The WBCS Mock Test Mains 2020 will consist of two separate modules.
Five sets of each six compulsory papers (includes only Bengali as 1st language), totaling thirty (30) tests. Course Fee Rs 3499.
Two sets of each papers of selected optional subjects of WBCS Main exam, totaling four (4) tests. Course Fee Rs 999.
For Full course 30 compulsory papers with Bengali as first language and optionals from selected list as available below = Rs 4498.
JOIN US NOW!!!
Tests will be online (for descriptive papers, send scanned copy of evaluation) and in our classroom at College Street Branch (near Puntiram, College Square,Kolkata) , every Sunday 1- am to 1 pm and 2 pm to 5 pm, starting with Bengali, English, GSI etc. There will be 5 cycles of 6 papers (including Bengali), every day 2 shifts.
Join our online WBCS Mock Test Mains 2021 programme NOW!.
One needs to send the filled up form, attached with photo and pay fees in cash / money transfer/DD etc. You can fill up the form online and pay the fees online too. After that you will be given a link to attempt the test online with your username and password and after you "submit" the paper you can see the score. You download question and answer papers as per schedule which you can do your username and password. (For evaluation of descriptive papers, you need to send it to us, hard copy or scanned copy).
The Course:
Sample WBCS Main Mock Test Compulsory Paper Bengali is available here.
Sample WBCS Main Mock Test Compulsory Paper English is available here.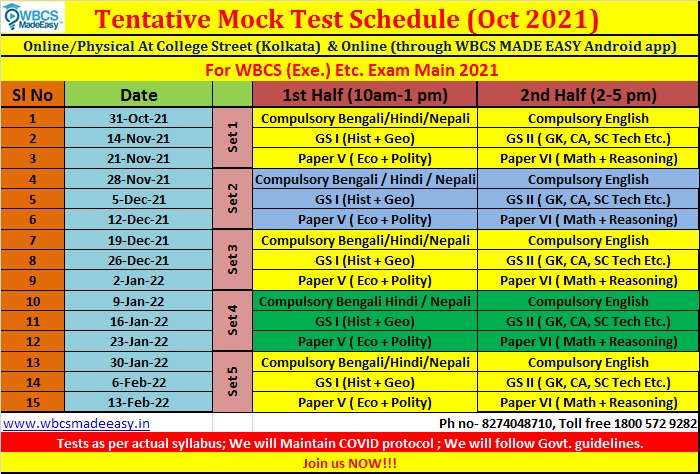 Online Main Mock Test will be held through our app only.

Payment
Payment can be done in offline mode or online mode for both classroom and online tests.
WBCS Main Exam 2021 (Compulsory papers with Bengali ) 30 Online Mock Test Series (Online / Classroom)

Mock Test for optional papers will be notified later

After payment Fill up the form by clicking this link:

WBCS Main 2021 Mock Test Enrollment Form (for all).
You can also join Exclusive Crash Course for WBCS Main Exam 2021.
To join WBCS Prelims Main Interview Foundation Course 2022, Click here.
All available courses (click here for details).
To join call us at 9674493673 or mail us at mailus@wbcsmadeeasy.in
Please subscribe here to get all future updates on this post/page/category/website