WBCS Prelims Mains Interview 2022 Fully Online
Introduction (We call it Online Foundation Course) :
We are a team of professionals who guide candidates like you for the WBCS (Exe.) Etc Exam at our institute " WBCSMadeEasy™ ".We are now starting the course WBCS Prelims Mains Interview 2022. We think and believe that all candidates have merit, more or less of same amount. But they only fail/disqualify in the WBCS exam only due to absence of proper guidance.
There are lot of books and notes available in the market. If one starts to study those books it will take 2-3 years for good preparation for an exam like WBCS as you know its services are of highest administrative nature in West Bengal. At the same time we also like to remind you that this exam is not ONLY for Scientists, Researchers or Labours. Candidates should have sound basic knowledge and a good strategy for cracking this exam. Changed pattern of this exam has made it easier provided you know what to study and how to do it.
We at our institute guide the student, take regular exam (one type is for home work and another for improving skill for appearing or answering question in prelims, which has negative marking), give concise notes (from where the questions are generally asked) and of course make strategy for students of diverse background ( since each student is different).We also motivate them continuously.There is also token award for topper in each exam at our institute.
Here only WBCS(A) officers provide guidance and only in weekends.
The Course (WBCS Prelims Mains Interview 2022):JOIN US NOW!!!
We will start next batch for WBCS Prelims Main Interview 2022 course for WBCS Preliminary exam, Main exam and Interview, 2022 onwards, from 23rd May 2021 (Orientation on 23rd May, Classes from 6th June 2021) , every Saturday (evening) & Sunday (from 9.00 am.). 30 seats in total for last batch. Few seats left, you can still join us. It includes well defined and enriched studymat (comparable to UPSC level), it includes mock tests etc. The course will be guided by WBCS Group A officers or toppers. The guidance will be provided till 2022. Stuymat will be provided online though printed version is available with extra payment.
Last Date of Admission is 5th June 2021.
And do not waste time making notes , because you may be working or have less time for preparation, this course comes handy. In WBCS Foundation Course we give study materials time to time as per our schedule.
2022 সালের WBCS পরীক্ষার জন্য প্রথম অনলাইন ফাউন্ডেশন ব্যাচ এর ক্লাস শুরু হবে ফেব্রুয়ারি 2021 থেকে। ক্লাস প্রতি শনিবার/ রবিবার / weekend এ। Guided by WBCS Gr A Officers। এখনো সময় রয়েছে। যারা 2021 সালের মধ্যে graduation complete করছেন এবং WBCS 2022 এর সিরিয়াস পরীক্ষার্থী এবং আমাদের সাথে যুক্ত হতে চান তারা এখুনি যোগাযোগ করুন। ছাড় সহ ভর্তির শেষ তারিখ 5th June 2021 ।
Features
❤️ প্রিলি, মেইন (Comp) , ইন্টারভিউ
❤️ শুধুমাত্র অনলাইনে লাইভ ক্লাস
❤️ শনিবার ও রবিবার ক্লাস
❤️ ১ বছরের কোর্স
❤️ কোর্স duration – ৩৫০ + ২৫০ = ৬০০ ঘণ্টা
❤️ WBCS Gr A অফিসার দ্বারা guidance
❤️ 35 টা মক টেস্ট প্রিলিমিনারী
❤️ 30 টি মক টেস্ট মেইন
❤️ Assignment / home works
❤️ Online স্টাডি ম্যাটেরিয়ালস
❤️ Doubt clearing
❤️ Talk-to-Officer
❤️ দিল্লীর নামকরা IAS Inst. ফ্যাকাল্টির সময়ে সময়ে গাইডেন্স
Our infrastructure may be seen here: Click here for infrastructure.
JOIN US NOW!!
Remember, the thumb rule of WBCS Exam is, "Do not study five different books one time each, study one book five times". Have you ever thought what are the resources available to those candidates who take exam from distant areas and districts ? what materials do the study? Do they all have access to good books, written by foreign authors? No , they study simple books and pass this exam with flying colours.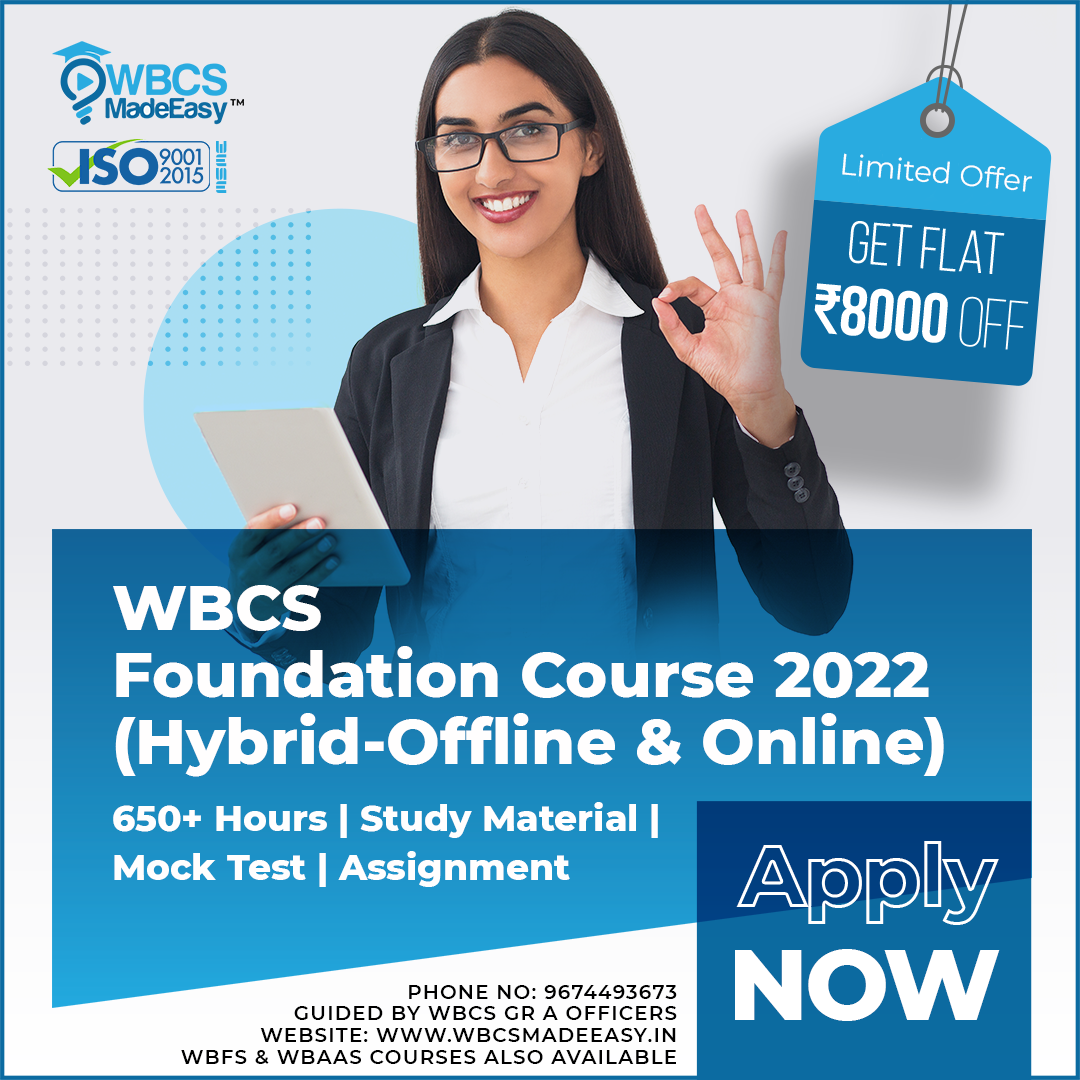 Since the age of WBCS exam has increased to 36 for Group A,B,C and 39 for Group D, (click here for details), don"t waste time , join us now.
After a full course here one may be able to take all related exams but we don't take responsibility of that.
Each year a good number of students pass this exam and other exams too from here with our guidance. In last published result of WBCS Result 2018 Gr A we have a good number of students from our Centre including 3rd, 5th, 6th in Gr A and 1st in and 13th Gr B.. Out of declared 67 vacancies our result is 10 , which is 15%.It is a grand success. It means that all who are successful in WBCS 2018 Gr A exam, 15 % have taken our guidance in any time of their journey.
In 2017 we got 23 selections till now in Group A & B Including 4th & 6th in Gr A & 1st in Gr B.
Final result WBCS Gr C & D are 2018 awaited (as of last update of this page).
List of new/current students who were our students at any stage of exam and passed finally. Old students not considered, there are many.
Final result WBCS Gr A & B are 2018
WBCS Gr A
1. ABHIRUP BHATTACHARJEE, WBCS (Exe.) Rank 3
2. RAMAN BUTTA, WBCS (Exe.) Rank 5
3. RAJNISH KUMAR YADAV, WBCS (Exe.) Rank 6
4. ROHAN SINHA, WBRS Rank 9,
5. DEBANJAN SEN, WBCopS Rank 1
WBCS Gr B
1. SABYASACHI GHOSH, Rank 1
2. PARAMITA MUKHERJEE, Rank 7
3. ANIRBAN MAZUMDAR, Rank 13
Unfortunately, as of now, we are ONLY SOUTH KOLKATA BASED, as our officers / teachers are so. The distance from your home may be short or long but you should always strive for quality. Any substandard guidance or guidance by persons who could not pass the exam even after attempting many times, of persons having very small knowledge about the pattern of the exam is dangerous. So, even if you need to travel a few hours more, you should go for good quality guidance. That is the reason people from many states go to Vellore for treatment. Personal contact with WBCS Group A Officers and regular feedback will do wonders for you. Even People from Siliguri ,Purulia, Bihar, Sundarban comes to us.
Course fee is Rs. 24999. Will be revised upward shortly.
If you know more about weekend batches and our advantages , click here.
All available courses (click here for details).
Our own publications are available at our webstore (click here).
For Guidance of WBCS (Exe.) Etc. Preliminary , Main Exam and Interview, Study Mat, Mock Test, Guided by WBCS Gr A Officers , Online and Classroom, Call 9674493673, or mail us at – mailus@wbcsmadeeasy.in
Visit our you tube channel WBCSMadeEasy™ You tube Channel
Please subscribe here to get all future updates on this post/page/category/website