Interview With Mr. Abhirup Bhattacharjee Rank 6 In W.B.C.S. 2017 Group A Revenue Service WBCSMadeEasy Student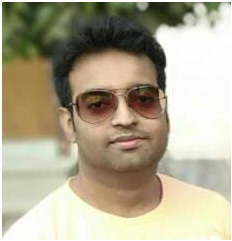 WBCS MadeEasy™: 1. When and how did the inspiration and idea of joining civil service come in your mind?
Abhirup: The idea and inspiration of joining THE CIVIL SERVICE came a bit late in my mind, late though but it came at an opportune moment ! I was working as Associate Consultant in Wipro Technologies and was happy and satisfied. But I had an uncanny knack of understanding people, their thoughts and emotions, so I would very easily and successfully motivate, lead and guide my co-workers and other people. I was also affectionately called "The accidental HR" due to my pro-active and transformational leadership and communication skills.
In the meantime, I was preparing for MBA and sat for XAT, where I scored 99.86 percentile. I also took admission, but that was the turning point, where I seriously pondered and reflected on my choices. I strongly believe that had I been an HR of some multinational company , I would have lead a comfortable but parochial , narrow life, where I would have got less opportunity to contribute and serve the society. As an HR, will I get the opportunity to serve the poorest of the poor , Will I get the opportunity as Gandhi said to – "Wipe Every Tear From Every Eye" ? The answer is an emphatic No ! So I chose to compete in Civil Services and turned down all other options! My determination in cracking the West Bengal Civil Services in first attempt itself was similar to Arjun's Bird eye test by Dronacharya.
I could only see the "eye of the bird" and rest everything was immaterial and non existent in my life during my preparation phase!
WBCS is not just an exam but it is a dream ! To achieve this dream I have followed the three Ds – Dedication Discipline Determination.
So many people fail to crack the civil service exam ( State PSC/UPSC ) not because they do not have the ability but because they do not have the HEART to go through adversity. When you are in darkness you wait and sit for light to come from some where, BUT you cannot simply wait , the only way out is to step forward and face your fear and BECOME YOUR OWN LIGHT !
My inspiration and idea regarding joining Civil Services can be beautifully summed by the following lines:-
As per western concept :-
" When you want something , all the universe conspires in helping you to achieve it."
– Paulo Coelho
And its Indian Equivalent is :-
"When a person is devoted to something with complete faith, I unify his faith in that. Then, when his faith his completely unified, he gains the object of his devotion."
—The Bhagavad Gita
WBCS MadeEasy™: 2. Tell us something about yourself? Educational Qualification, Marks/Division/Class, schooling…..
Abhirup: Brief Profile:-
ICSE CLASS X
DON BOSCO SCHOOL PARK CIRCUS
ISC CLASS XII
DON BOSCO SCHOOL PARK CIRCUS
GRADUATION
B.Tech in INFORMATION TECHNOLOGY
Other Exams XAT [ 99.38 percentile ]
WBCS MadeEasy™: 3. What factors did you consider before selecting your optional? What were they?
Abhirup: My optional was PSYCHOLOGY.
Selecting an optional correctly and coming out with flying colours in the FIRST ATTEMPT itself is a challenging task , I must admit that. You will find many aspirants struggling with optional and some also change their optional after few years of unsuccessful attempts there by compounding the disaster ! I too was in perennial confusion between the two optional namely PSYCHOLOGY and ANTHROPOLOGY. I being from a science background was attracted to both of them, because both are equally exciting and rewarding! But I am extremely thankful to WBCSMadeEasy(www.wbcsmadeeasy.in). Sir addressed all doubts and helped me in selecting the optional that suited me perfectly and I zeroed in on PSYCHOLOGY!
I blatantly admit that the concept of "SCORING OPTIONAL" is a confounded myth ! Labeling optional as "scoring" and "non scoring" is unwise. It all depends on YOUR COMFORT with the subject and HOW WELL YOU CAN REPRESENT THE ANSWERS. Since you need to master a Graduation or Master's syllabus in the shortest possible span of time.
Hence which choosing the optional , the following points becomes a sine qua non !
– Reviewing Past Year Question Papers.
– Your Comfort Label with the subject matter.
– Will you be able to sustain year long preparation with the subject or not ?
– How well you can express the subject matter in the exam hall with in a limited time frame.
– Yourover all aptitude and interest.
WBCS MadeEasy™: 4. How did you sustain the study-momentum throughout the year?
Abhirup: The way I sustained my study – momentum throughout the year can be summarized aptly by the following teachings of The Bhagavad Gita
"Your right is only to perform your duty. You do not have right to expect any consequences there of.You should neither be motivated by the fruits of your action, nor should they encourage you to be inactive."
—The Bhagavad Gita
WBCS MadeEasy™: 5. How many hours did you study per day? How many months did it take you to complete the core syllabus of Compulsory and optional subjects?
There was no fixed number of hours that I used to study! But as already mentioned clearing WBCS a getting into Group A services in my very First Attempt was my top priority. Hence all irrelevant activities was put to bay ! A complete positive transformation was brought to force. Most of the time was devoted to proper studying and revising as many times as possible.
I planned an "integrated Approach" towards both mains and prelims. From the very first day, I targeted my studies towards mastering WBCS MAINS. I knew once you mastered mains , clearing prelims would be a matter of time.
Abhirup: I followed the following time frame:-
CORE SYLLABUS 9 months
Compulsory [ English + Bengali ] Daily read the following newspapers:-
1) The Hindu
2) The Indian Express/The Times Of India
3) Ananda Bazar Patrika
With special focus on
Editorials / Debates/ discussions and important Articles on national and international Importance
MCQ Practice 6 months
OPTIONAL + Writing Practice 6 months
Keeping in mind the latest question pattern , "An integrated Approach" is more important, because of late WBCS is becoming very tough year by year. Hence an integrated approach becomes a sine qua non!
For instance with questions like this , you need to have clarity as well as depth of knowledge along with its suitable applications
Consider the following:
1. Areca nut
2. Barley
3. Coffee
4. Finger millet
5. Groundnut
6. Sesamum
7. Turmeric
The Cabinet Committee on Economic Affairs has announced the Minimum Support Price for which of the above?
(a) 1, 2, 3 and 7 only
(b) 2, 4, 5 and 6 only
(c) 1, 3, 4, 5 and 6 only
(d) 1, 2, 3, 4, 5,6 and 7
WBCS MadeEasy™: 6. Did u use internet, was it effective?
Abhirup: I definitely used the internet , and it was really helpful in my preparation. However a word of caution here for the future aspirants! Previously the problem regarding civil services was the dearth of information, now the problem is excess of information regarding the same! Hence internet can be both a boon or a bane ! I strongly advice against being too much active on social media or unnecessarily watching too much youtube videos, because alongside of being useful , these platforms also breed unnecessary rumors and disseminate mis information that may be very detrimental and ultimately bring disaster to the aspirants.Nowadays every now and then a new youtube channel / site pops up promising exclusive information on Civil services. Most of them behind those channels are aspirants themselves who lacks clarity on the whole process, and end up mis-guiding gullible aspirants. I strongly believe in taking guidance from only WBCS/IAS /IPS / officers or very senior professors or respectable senior officers who knows the process very well.
However there are few websites which are extremely useful and provides very useful and authentic information and study materials, questions etc.
I personally followed the below links and found them extremely useful:-
www.wbcsmadeeasy.in/

https://mrunal.org/
www.visionias.in
WBCS MadeEasy™: 7. Were you doing any other job during preparation?
Abhirup: Yes as ASSOCIATE CONSULTANT in WIPRO Technologies
WBCS MadeEasy™: 8. Which newspapers & magazines you went through?
Abhirup: I went through the following newspapers & magazines and found them extremely useful:-
NEWSPAPERS
1) The Hindu
2) The Indian Express
3) AnandabazarPatrika
MAGAZINES
1) PratiyogiaDarpan
2) Bengali medium students can follow Achiever's magazine
WBCS MadeEasy™: 9. Did you take coaching? How was the experience?
Abhirup: To Ace WBCS exam in very first attempt, besides having a smart , disciplined approach you definitely need a sound guidance. I took full classroom guidance from SUCCESS WBCSMadeEasy(www.wbcsmadeeasy.in)
There only WBCS (group A) officers guide the aspirants, and I found their guidance very helpful and rewarding!
WBCS MadeEasy™: 10. What about Interview in WBCS? Was the board cordial? What should be a proper preparation?
Abhirup: Facing the WBCS interview board was itself an exciting experience ! The board was very cordial. I have faced a lot of interviews in my life ranging from corporate interviews to interviews in XLRI , XIMB and other reputed Management B schools.
But I must say, WBCS interviews are conducted in the most scientific manner. We must appreciate the fact that it is NOT an interview but a TEST OF YOUR PERSONALITY. The prospective future administrators and officers are tested on a plethora of parameters, the most important of them viz:-
1) Honesty and Integrity
2) Your Moral and Ethical foundations
3) Your overall Personality will be thoroughly assessed based on your communication , presentation and how well you handle situations.
4) Your Psychologicalmake up.
5) Your judgment and reasoning ability.
6) Your Leadership attributes
7) Your Awareness
WBCS MadeEasy™: 11. Please suggest some good books for pre, comp, optional.
Abhirup: A detailed discussion, subject and topic wise is given at the end of this interview. As and when time permits , I will try and contribute more relevant and to the point crisp information, that will be very useful for the aspirants.
WBCS MadeEasy™: 12. What should be the strategy for cracking this exam?What message you want to give to all aspirants?
Abhirup: "Disciplining yourself to do what you know is right and important, although difficult, is the high road to pride, self-esteem, and personal satisfaction"
– Margaret Thatcher
Turn every OBSTACLE into OPPORTUNITY ! Remember success don't teach us anything , it is our failures that removes the rust with in us, turns us from IRON to GOLD!
1) Focus is the KEY here !
Steve Jobs onceonce said:-
"People think focus means saying YES to one thing you've got to focus on. But that's not what it means at all. It means saying NO to the hundred other good ideas that are there !"
2) Be DISCIPLINED and VALUE TIME above anything else!
Chanakya once said –
" When valuable time gets wasted, we can't get it back even after spending crores and crores of gold coins !"
This is not a motivational jargon, but let me speak my heart out !There will be events (E) in life , when you will feel completely powerless and helpless. These events (E) do come to absolutely topple you down and during these times you have two options- either FLIGHT ( Breakdown –let the event destroy you and every thing that is good) or you FIGHT (Resist the dark & evil ). Paradoxically it is during these powerless times that you will need some power !
I am reminded of a beautiful incident in MAHABHARATA where Yaksha asks the last and final question to Yudhishthira- What is the greatest wonder in the world ?
Yudhishthirareplied " Day after day countless people die, we live in full cognizance that death is around us , yet we show courage to live as immortals!- This is the greatest wonder"
So my earnest request to all the aspirants is to stop wasting time on frivolous activities and start uplifting yourself ! Invest your life in GOOD AND POSITIVE THINGS! Shun all activities that hinder your growth as POISON and EVIL ! Your fruits of labour and hard work will act as an ARMOUR SHIELD in those times , when you will feel the most helpless and powerless! Find a concrete purpose and start actively working on it !
"ACROSS THE OCEAN OF IGNORANCE LIES YOUR SALVATION ! CROSS IT !"
WBCS MadeEasy™: 13. Anything else you want to share?
Abhirup: It is important for each one of us to remember that we must keep striving until we reach our true potential. If we are not aspiring high and wasting our time on frivolous activities, spending unnecessary time on social media , wasting our energy in clubbing , partying , chasing mindless materialistic temporary glitters, we are actually dishonoring ourselves.
" One should strive and employ oneself to uplift oneself. One should never dishonor oneself. The self is one's friend as well as one's enemy."
—The Bhagavad Gita
I think my journey is very special, not because I achieved success in WBCS exam after lots of trials and tribulations, but because this journey helped me in gaining deeper spiritual understanding of life , business , career etc. I sincerely suggest everyone , who aim to crack a difficult exam like state civil services or UPSC, to develop a disciplined and healthy life style. You should try to cut your self out from unnecessary distractions, hoi polloi for some time. Try to meditate every morning or just sit quietly for few minutes in the dawn and simply reflect on your life , your goals , your priorities. Ask your self -What your goals are ? What is your higher purpose in life – Is it simply to lead a vegetative , gluttonousness , existence by simply squandering your time and life by partying , drinking , merry making and concentrating on frivolous activities ? Or do you aspire to rise above the ordinary ? You want to give back and substantially contribute to the society. You want to serve the people ? Arise Awake and find your purpose ! If you have a higher purpose in life , then simply stop wasting time on unnecessary activities and gibberish talks ! Start living in your present and ensure that henceforth , you will make the best use of your present day, because this will help you to carve out your niche in the future !
Salvation of the Dawn
Look to this day,
For it is life,
The very life of life.
In its brief course lie all the truths
And realities of your existence;
The bliss of growth
The glory of action, and
The splendor of beauty;
For yesterday is but a dream
And tomorrow is only a vision,
But today well lived makes
Every yesterday a dream of happiness
And every tomorrow a vision of hope.
Look well, therefore, to this day.
Such is the salvation of the dawn.
—The Bhagavad Gita
WBCS MadeEasy™: 14. Was it your 1st attempt? If not what about previous ones? You are from which batch and what was your rank in WBCS Exam (Please don't mind)?
Abhirup: ABSOLUTELY This was my very FIRST ATTEMPT! I am really elated and grateful to the almighty for giving me success in my maiden attempt!
15. Do you suggest anything on changed pattern of WBCS Exam like how to choose optional subject, how to study for main exam now , what should be the strategy etc.?
WBCS Exam is undergoing a tremendous revolution ! The pattern is changing year by year and the standard of questions in both depth and dimensions are becoming higher. A detailed discussion of question pattern with illustrations is given at the end of this interview. I have discussed there in depth the topics that you ought to be thorough with before you face the exam!
WBCS MadeEasy™: 16. Have you seen our website? How far it is useful for students?
Abhirup: Yes , It is very useful
Our own publications are available at our webstore (click here).
For Guidance of WBCS (Exe.) Etc. Preliminary , Main Exam and Interview, Study Mat, Mock Test, Guided by WBCS Gr A Officers , Online and Classroom, Call 9674493673, or mail us at – mailus@wbcsmadeeasy.in
Visit our you tube channel WBCSMadeEasy™ You tube Channel
Please subscribe here to get all future updates on this post/page/category/website