Postponement of WBCS Prelims 2021 And WBCS Mains 2020 Examination for Covid 19 Pandemic
As per last notification by PSC WB WBCS Preliminary Examination 2021 was to be held on 30th May 2021 (click here for the notice) and WBCS Main 2020 was to be held from 17 May 2021 to 21 May 2021 ( click here to see the announcement ). Now due to second wave of COVID 19 Pandemic Public Service Commission West Bengal Notifies that
"In view of the recent surge in the number of COVID Positive Cases in
the State, the Commission has decided in consultation with the State
Government, that all Written Examinations scheduled to be taken by
the Commission between 07/05/2021 and 30/06/2021 stands
postponed until further orders, to prevent the possibility of any further
spread of the pandemic. Fresh dates for the postponed Examinations
would be announced in due course. Candidates are advised to visit
https://wbpsc.gov.in from time to time for updates."

So the WBCS Prelims 2021 And WBCS Mains 2020 Examination is postponed.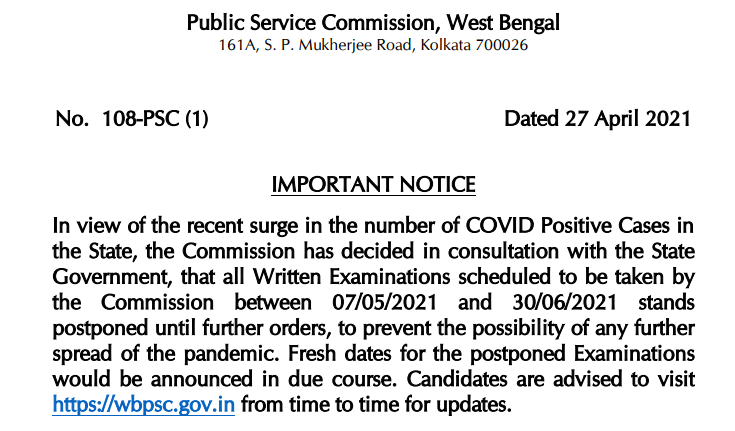 The order from PSC WB is available here: