WBCS 2019 Group A And B Online Interview Schedule
Click here for original schedule as published by PSC WB to download.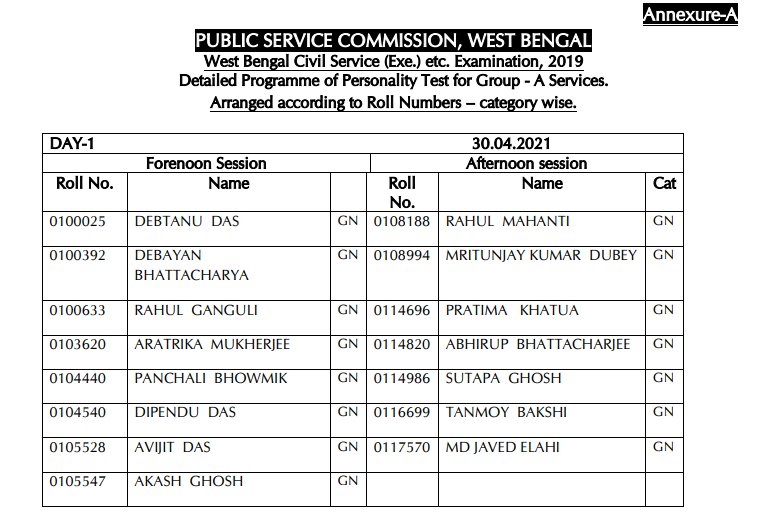 PUBLIC SERVICE COMMISSION, WEST BENGAL
West Bengal Civil Service (Exe.) etc. Examination, 2019
Detailed Programme of Personality Test for Group – A Services.
Arranged according to Roll Numbers – category wise.
DAY-1 30.04.2021
Forenoon Session Afternoon session
Roll No. Name Roll
No.
Name Cat
0100025 DEBTANU DAS GN 0108188 RAHUL MAHANTI GN
0100392 DEBAYAN
BHATTACHARYA
GN 0108994 MRITUNJAY KUMAR DUBEY GN
0100633 RAHUL GANGULI GN 0114696 PRATIMA KHATUA GN
0103620 ARATRIKA MUKHERJEE GN 0114820 ABHIRUP BHATTACHARJEE GN
0104440 PANCHALI BHOWMIK GN 0114986 SUTAPA GHOSH GN
0104540 DIPENDU DAS GN 0116699 TANMOY BAKSHI GN
0105528 AVIJIT DAS GN 0117570 MD JAVED ELAHI GN
0105547 AKASH GHOSH GN
DAY-2 03.05.2021
Forenoon Session Afternoon session
Roll No. Name Cat Roll No. Name Cat
0117614 MRIGANKA SHEKHAR DAS GN 0207932 SAYANDEEP
BHATTACHARJEE
GN
0122205 ANKUSH DEBNATH GN 0209616 TARIQUE AHMAD SIDDIQUI GN
0123028 TUSHAR SARKAR GN 0209902 RIDDHIBAN CHATTERJEE GN
0123175 MALAY MANDAL GN 0212765 ASHIS GHORAI GN
0123262 ARKA SENGUPTA GN 0212782 SAYANTAN SEN GN
0125281 NEMAI SAMANTA GN 0215883 ABHIROOP BISWAS GN
0201636 SIDDHANTA GHOSH GN 0300213 BIJAY DAS GN
0206111 ANIRBAN GHOSH GN
DAY-3 04.05.2021
Forenoon Session Afternoon session
Roll No. Name Cat Roll No. Name Cat
0301673 PRANTIK SAMADDER GN 0512033 AKASH KUMAR SAHA GN
0400255 PRATEEK GUPTA GN 0514151 MD JASIM GN
0502445 RUDRA SUNDAR PATI GN 0521037 SWARNADEEP ACHARYYA GN
0502658 ABHIJIT MAHAPATRA GN 0521563 SUBHADEEP DAS GN
0504456 ROUNAK ROY GN 0522441 PRITHWISH NATH GN
0504772 SOUMYAJIT PAUL GN 0523993 CHAND MD (PH – VC) GN
0504847 ARKA GHOSH GN 0613961 MD ABU SAHANI GN
0508278 NASRUL ISLAM GN
DAY-4 05.05.2021
Forenoon Session Afternoon session
Roll No. Name Cat Roll No. Name Cat
0704654 SOUMYA SASMAL GN 0900900 MRINMOYEE CHATTERJEE GN
0705565 MADHUMANTI CHANDRA GN 0903301 SATYENDRA SINGH GN
0708244 SHAHEEN ALAM SARDAR GN 0906318 SAMRAT ROY GN
0801219 ARPAN GANGULY GN 1006456 ABHISHEK MANDAL GN
0806417 PRODIP RAJA GN 1102306 SOUMYA SANKAR DAS GN
0808106 TRIDIP MANDAL GN 1104838 SUBRATA KUMAR HAZRA GN
0812884 SOMNATH SEN GN 1202084 SUBHAJIT TEWARI GN
0900588 VINEET KUMAR GN
DAY-5 06.05.2021
Forenoon Session Afternoon session
Roll No. Name Cat Roll No. Name Cat
1207109 SUBHABRATA PATI (PH –
VC)
GN 1803627 PRIYANKA KUNDU GN
1303963 SHYAMAL BANERJEE GN 1803639 ARPITA GHOSAL GN
1309892 ARINDAM SARKAR GN 1807579 ASHISH BHANDARI GN
1313441 DEBANJON BISWAS GN 0100403 SHAKIL AHAMED BA
1408657 PRASENJIT DEY GN 0100655 MD AQUIB NASIM BA
1500708 DEBOLINA BASU GN 0107207 FARMAN ALI BA
1703051 PRATIK MUKHERJEE GN 0116497 ASIF IQBAL BA
1803595 SOURAV MEHATA GN
DAY-6 07.05.2021
Forenoon Session Afternoon session
Roll No. Name Cat Roll No. Name Cat
0117581 MD HAROON BA 0213029 KAHKASHAN NIGAR BA
0117685 AFAQUE ALAM BA 0215132 HENA KAUSAR BA
0123223 MD GHULAM GHOUS BA 0500384 JYOTSNA KHATUN BA
0123774 NIKHAT PARVEEN BA 0509234 IMRAN ALI BA
0124029 SADDAM HUSSAIN BA 0512761 NOOR ALAM ANSARI BA
0125662 SAHINA KHATUN (PH –
VC)
BA 0515797 RAJESH DAFADAR BA
0205088 MOHAMMAD ASIF AZAD BA 0604868 ALAMGIR HOSSAIN GAZI BA
0211604 MD AZHARUDDIN BA
DAY-7 10.05.2021
Forenoon Session Afternoon session
Roll No. Name Cat Roll No. Name Cat
0605257 CHAND MANSURI BA 0104711 ANIKET PANDIT BB
0804802 SK MOYNUL BA 0113420 PULAK BISWAS BB
0806883 SK MD JASIMUDDIN BA 0114112 DEBASISH DAS BB
0808604 NILUFA PARVIN BA 0517402 ADRITA SAMADDER BB
1202596 ABDUL SAMIR MONDAL BA 0519130 SUBHADEEP GHOSH BB
1301309 MST SAMSAD BEGAM BA 0606062 ENZAMAMUL HAQUE
TARAFDER
BB
1311934 MD JARJIS HOSSAIN BA 0606909 RITAPA DEBNATH BB
0102514 DEBABRATA KARMAKAR BB
DAY-8 11.05.2021
Forenoon Session Afternoon session
Roll No. Name Cat Roll No. Name Cat
0703945 CHANNAN MAHATO BB 0104203 ADHIR SUNAM SC
0807778 ABHIJIT KARMAKAR BB 0106787 SURAJIT SARKAR SC
0810764 MD AAQUEL KHAN BB 0117206 SWAPAN KUMAR BISWAS SC
0903498 KOUSIK MITRA BB 0120765 SOMSANKAR MONDAL SC
1201463 INDRANIL DANDAPAT BB 0123245 GURUPADA SARKAR SC
1202487 BALARAM KUNDU BB 0209018 DEBRAJ SARKAR SC
1309439 TAHAJUL ISLAM BB 0213101 KAILASH PRASAD SC
1702811 DIPANKAR PAUL BB
DAY-9 12.05.2021
Forenoon Session Afternoon session
Roll No. Name Cat Roll No. Name Cat
0501742
BISWANATH PRATAP
THAKUR SC 0801141 DHIMAN SARKAR SC
0518231 CHANDAN SAHA SC 0804737 PRANAB ROY SC
0521508 SUBHANKAR SARKAR SC 0807821 KISHALAY ROY SC
0522027 ASHIK BISWAS SC 0807857 BISWARUP BISWAS SC
0600045 ABHIJIT SARKER SC 0811937 MITALI METE SC
0605492 SAURAV BISWAS SC 0902657 PRAMOD MAHATO SC
0608118 PARTHA PRATIM BISWAS SC 1300882 PRATUL MONDAL SC
0701458 ACHINTA MALAKAR SC
DAY-10 13.05.2021
Forenoon Session Afternoon session
Roll No. Name Cat Roll No. Name Cat
1308612 JYOTIRMAY SARKAR SC 0610582 SUBRATA SARDAR ST
1600415 JAYANTA BARMAN SC 0707018 PRITTEN SHERPA ST
1701177 SUBHANKAR DAS SC 0810976 ARIJIT KISKU ST
1804205 OM PRAKASH RAJAK SC 1802726 SHANTI SUBBA ST
0100444 SUKDEB SINGH ST 1804225 DUKAR CHODEN BHUTIA ST
0118599 GYALSEN LEPCHA ST 1900192 SIV TSHERING SHERPA ST
0209844 NIMA TSHERING PAKHRIN ST 1900325 ANOS SADA ST
0510356 KOWSHIK SARDAR ST 1900371 TENZIN NORBU ST
DAY-11 17.05.2021
Forenoon Session Afternoon session
Roll No. Name Cat Roll No. Name Cat
0102291 ARUNIMA SENGUPTA 0512664 ARPITA RAY
0102536 KAHEKASHAN PARVEEN 0515275 BISHAL KUMAR SHAW
0106176 AMITAVA GANGULY 0602335 KARTICK DEY
0107122
DIPANJAN
BHATTACHARYYA 0603903 MILANI DAS
0107736 DEBAJIT GHOSH 0606141 SHILPI PAUL
0212636 CHANDRAA BISWAS 0613007
MAINAK ROY
CHOWDHURY
0502453 HIRAK BISWAS 0614302
SOUPARNA
CHAKRABORTY
0509050 TRIDIB BISWAS
DAY-12 18.05.2021
Forenoon Session Afternoon session
Roll No. Name Cat Roll No. Name Cat
0702121 ARINDAM CHAKRABORTY 0813136 KUNAL MUKHERJEE
0702663 KRISANU THAKUR 1202194 RUDRASHIS BANERJEE
0706733 AKANKSHA SINGH 1803741 SHATARUPA DAS
0706760 AMIT KUMAR MAL 0102614 MD AHSAN QUADRI BA
0707840 SANDEEP WOKIL 0104224 MD SHAHROZE BA
0803471 ARYA TAH 0106992 SAHEB ALI BA
0806377 PRADIPTA GHOSH 0108281 MD ASIF IQBAL HOSSAIN BA
0809621 RAMGOPAL MONDAL
DAY-13 19.05.2021
Forenoon Session Afternoon session
Roll No. Name Cat Roll No. Name Cat
0121856 AMIR SOHEL BA 1008526 DEBANJAN DUTTA BB
0209440 OSAMA BAKHTIAR BA 0101515 BIREN KUMAR SHARMA SC
0504817 MD IZRAIL BA 0107059 SUCHANDAN BAIDYA SC
0510888 SHAH ALAM BA 0201059 DIPAK MANDAL SC
0605346 SHAMIM ZAMAN BA 0204885 URMI RANI SHEET SC
0809396 MD ARIF NOWAZ BA 0300811
GOUR CHANDRA
MONDAL SC
0808134 SOURAB KUMAR PAL BB 0501483 DEBADRISH BISWAS SC
0903746 SOM SHUVRA KAPRI BB
DAY-14 20.05.2021
Forenoon Session Afternoon session
Roll No. Name Cat Roll No. Name Cat
0504378 SUJIT KUMAR ROY SC 1309245 UJJWAL SARKAR SC
0504879 PROSENJIT MONDAL SC 1804476 RAHUL BARMAN SC
0509028 SAYAN BISWAS SC 1804569 GOPAL SARKAR SC
0515364 BRISTI HAZRA SC 1807794 MANOJ ROY SC
0520642 SUBIR SANTRA SC 0122017 PRADIP HEMBRAM ST
0521255 KOUSHIK MONDAL SC 2000081 PRITAM SUBBA ST
0605021 TAMAL KANTI SARKAR SC 2001578 NIMA TSHERING SHERPA ST
0608792 TAMAL KUMAR BISWAS SC
1) Candidates are being called for the Personality Test provisionally subject to verification of their
eligibility and suitability for the examination in all respects including verification of original documents
(e.g. academic qualifications, proof of age, B.C/S.C./S.T./P.H certificates etc.) to be produced as and
when required. If the candidate failed to produce any of the required original certificates for
verification, their candidature will be liable to be cancelled by the Commission straightway
2) The interview will be taken online.
BY ORDER OF THE COMMISSION
Sd/- B. Dey
DEPUTY SECRETARY