WBCS Exam 2018 Notification-Form Fill-up-Syllabus-Age Criteria.
WBCS ২০১৮
পরীক্ষার  বিজ্ঞপ্তি – ফর্ম পূরণ -পাঠ্যক্রম – বয়সের মানদণ্ড।
WBCS (Exe.) Etc. Exam has been notified by the PSC WB in their online website (https://www.pscwbonline.gov.in/docs/1958764).
Continue Reading WBCS Exam 2018 Notification-Form Fill-up-Syllabus-Age Criteria
Online form fill up will start at 11.30 am on 10 November 2017 and last date of Form is 30 November 2017.
Date of Examination is 28 January 2018.
Click here to see the WBCS 2018 Notification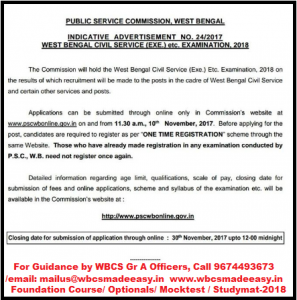 Maximum
Age limit is 36

For general candidates for Group A,B,C and for WBCS Group D it is

39 years

. Lastly the closing date for application to WBCS 2018 has been extended to 11.12.2017.

Please click here to see the full advertisement of the Exam.

Click here for date extension notice.

You can also see our relevant post for age criteria etc. Click here
Details syllabus was published too and is available at 
For any sort of guidance regarding WBCS Exam and its preparation, please write to mailus@wbcsmadeeasy.in. Our officers will help you.
If you want, you can go to our post below to see our guidance materials with screenshot image, how to register online and apply for the exam.
The exam is expected to be held on 28.01.2018 and  there are almost 90 days left for it. This is more than sufficient time if you utilize it properly. We think and believe that all candidates have merit, more or less of same amount. But they only fail/disqualify in the WBCS exam only due to absence of proper guidance.There are lot of books and notes available in the market. If one starts to study those books it will take 2-3 years for good preparation for an exam like WBCS as you know its services are of highest administrative nature in West Bengal.
At the same time we also like to remind you that this exam is not ONLY for Scientists, Researchers , a general graduate can also take the exam and be a topper. And you need not to memorize your studies for 20 hours a day to qualify in this exam. Candidates should have sound basic knowledge and a good strategy for cracking this exam.Changed pattern of this exam has made it easier provided you know what to study and how to do it.So approach it smartly and you will pass the exam. Else you will work hard and may fail.
We are a team of professionals, experts & toppers of WBCS Exams in previous years, who guide candidates like you for the WBCS(Exe.) Etc Exam at our institute "SUCCESS".
If you want our guidance,  we can help you sail through the WBCS Exam 2018.
Since the age is finally increased to 36 years for WBCS Group A, B, C and for WBCS Group D it is 39 years, do not delay your plan now. JOIN US NOW!!! Else it will be late.
Prelims + Main + Interview (Foundation Course): just started, weekend batches, weekly once,

UNTIL SUCCESS* @ Rs 35000.

– Specially beneficial for students / officer goers / those want matured guidance. (Click here for details.)
New course for Maths & Reasoning, weekly once, 8 months @ Rs 7500 (NEW COURSE).

Mock Test for Prelims  @ Rs 3500 (35 tests)

, online available. (Click here for course details.)

Correspondence course for

WBCS 2018

@ Rs 20000. (Click here for course details)

Optional Subjects

@ Rs 7500 (weekly once, 6 months)-just started.

Online classes through

SKYPE.

(Click here for details)
Our own publications are available at our webstore (click here).
For Guidance of WBCS (Exe.) Etc. Preliminary , Main Exam and Interview, Study Mat, Mock Test, Guided by WBCS Gr A Officers , Online and Classroom, Call 9674493673, or mail us at – mailus@wbcsmadeeasy.in
Please subscribe here to get all future updates on this post/page/category/website