WBCS 2019 Group A And B Interview – First Time Online Interview – Rules
Public Service Commission West Bengal has first time arranged Online Interview For WBCS Group A and B Candidates which can be given from the comfort of their home. The rules says:
In view of the unprecedented surge in the number of COVID-19 cases in the State, it has been decided
that interview for West Bengal Civil Services (Exe.) etc. Examination, 2019 (for both Group 'A'
and 'B' Services) scheduled from 30 April 2021 to 20 May 2021 (excluding Government holidays) will
be taken in Online mode. The date-wise schedule of interviews indicating Roll Number, Name and
Category of the candidates is given in 'Annexure-A'.
Candidates are required to attend the interview in Online Interview in the following manner:
A. The tentative time slot for the interview would be communicated to the candidate through Email at the address recorded with the Commission.
B. The candidate will have to attend the Online meeting from any suitable location by accessing
the link provided in the E-mail from a computer with webcam/Smartphone/tablet and high
speed internet capable of supporting video conference.
C. The candidate should remain present in front of the computer 30 (thirty) minutes ahead of the
scheduled time of interview and remain present there until the interview is completed.
D. The room should be well illuminated and no person other than the candidate should remain
present in the room where the computer terminal is placed during the interview.
E. The Mobile of the candidate should remain active during the entire duration of the interview so
that calls can be made to the candidate, if necessary. The Mobile should, however, remain in
silent mode to avoid interference with the interview.
F. The following documents will have to be scanned and uploaded to
http://wbpsc.examsonline.co.in at least 3 (three) working days ahead of the date fixed for
interview.
(i) Recent passport sized coloured photograph.
(ii) Certificate/Admit Card of Madhyamik/equivalent examination showing the date of birth
of the candidate.
(iii) Graduation Certificate/Mark Sheet.
(iv) SC/ST/OBC certificate, if applicable.
(v) Current 'NCL' certificate (for OBC candidates only).
(vi) PWD certificate, if applicable.
(vii) Choice sheet in the format provided at 'Annexure-B'.
G. All the documents mentioned in 'F' above will have to be produced before a Group-A officer and
a certificate in the format prescribed at 'Annexure-C' will have to be obtained from the officer
and uploaded at "http://wbpsc.examsonline.co.in" along with the scanned copies of the above
certificates/documents.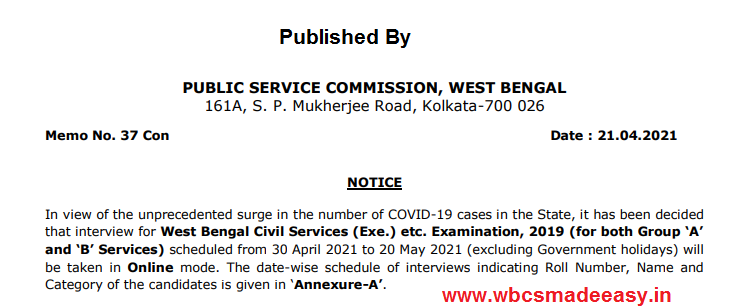 To see the details of the announcement download it from here:
To see the full list of candidates recommended Candidates click here.
To see the Preference Sheet or Choice Sheet for WBCS Group A B C D services click here
To see the Information Sheet – Caste Certificate Format (SC/ST/OBC/NCL/PH) click here .